When you need answers or healing from within, rely on Faith psychic readings. Faith is an amazing and knowledgeable psychic and tarot card reader, spiritual life coach, and holistic practitioner whose God-given gifts of clairvoyance and clairaudience give her a unique ability to bond with her clients. Through the sound of your voice and a birth date, Faith is genuinely able to get to know you on every level, and offer a wide variety of insightful services, such as astrology, color therapy plus traditional psychic, tarot card and tea leaf readings.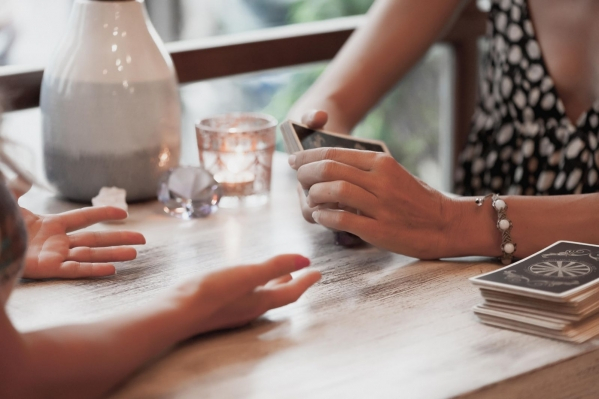 Faith has been helping people for more than 30 years. Since every reading is different based on the individual person and their situation, she can also use a combination of approaches. Of course, all readings are private and confidential.
Call to schedule an appointment with Faith
I utilize my gift from God to connect with situations, events and people in your life, and can give you the insight that you need to navigate through your journey of life.
All readings are detailed, accurate and specific. I can answer questions that you may have in regards to your past, present and future
I specialize in love & relationships for so many years i have been helping many to find their true love.
Tarot Card Readings
I would love the opportunity to share with you my mastery of the tarot.
I have several unique tarot card spreads that can be customized to your specific situation.
The tarot is a tool that i use to give insight and guidance in order to help people have a better understanding of upcoming events and opportunities and to help set you on the most positive path.

Faith is offering MIND BODY & SPIRIT RENEWAL services
This will help with your overall spirituality. A renewal will restore your energies back to its original form. With this session you will become more open for positive change.
CHAKRA BALANCING with stones and crystals
The process of restoring a harmonious flow of energy across the chakra system. The result of well balanced chakras will give you a feeling of well-being, relaxation, and overall positive energy.
KARMIC ENERGIES REMOVAL
Having a karmic energy unbalance within yourself can transform your karma into a negative pattern. Grace will free your energy of anger, hurt, and confusion – this will manifest great karma for you.